I was having a hard time getting dressed with morning. Couldn't tell if it was because I had too many options or no options at all. Anyways, when this happen I jump on a few of my favorite style blogs for inspiration, make a complete mess of my room and pretty much play dress up.
The downside sometimes is that you begin to hate everything in your closet and think "OMG! I have nothing. I have no style." Classic move, but of course not true. Can't be too hard on yourselves guttersnipes.
You will be surprised how taking a picture makes you like your outfit more. It's like Cher said it Clueless: "I take Polaroids of all my outfits because I don't trust mirrors." Well said Cher, well said.
Here are two outfits I put on today.
Take one: shorts and tights are my go to thing in fall. Best when it's not raining...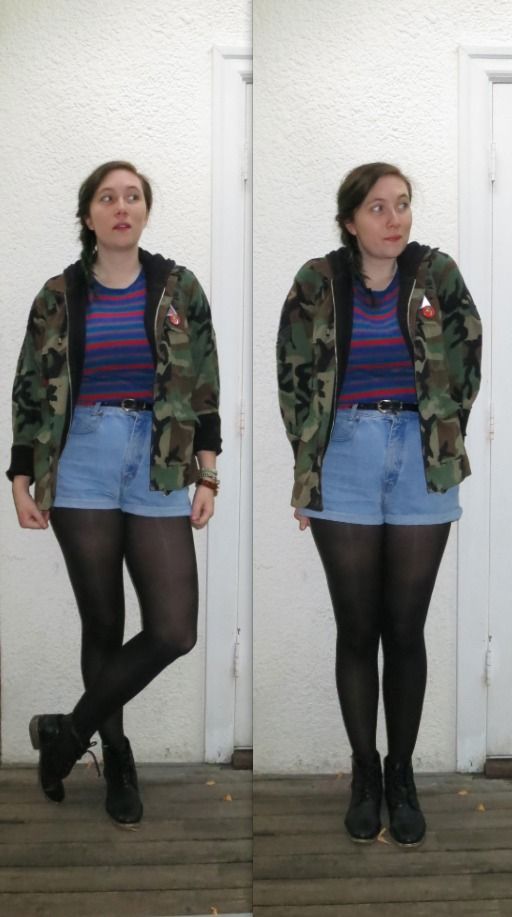 Tights (Target) $3.00 x Shoes (Macy's)
Shirt (Goodwill) $3.00 x Shorts (DIY High Waisted Shorts)
Hoodie (H&M) $20.00 x Jacket (Army Surplus) $5.00
Take two: I remember I have these awesome heels I bought awhile ago on Broadway. The store was closing so I got them for a steal. It's funny because I don't really wear heels but I love these.
Heels ($35.00) x Leggings (Target) $9.00
Sweatshirtsweatshirt (Salvation Army) $1.29 x Necklace (Target)
Flannel (Men's Section - Target)